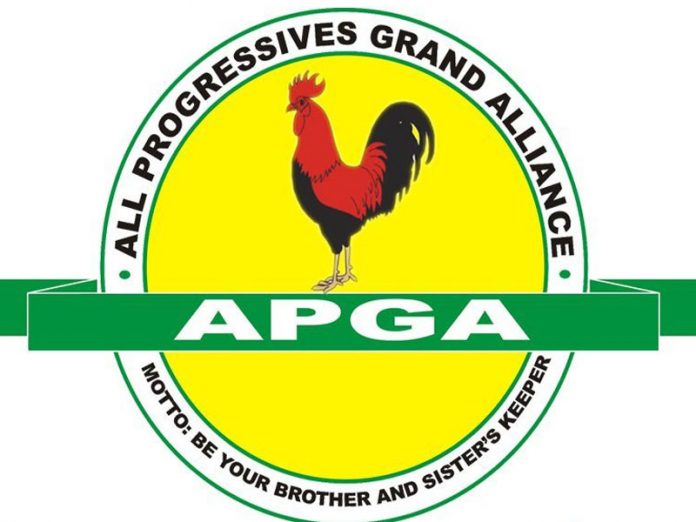 The All Progressives Grand Alliance (APGA) has kick started a drive to raise money that will be used to ameliorate the pain of the Covid-19 pandemic on the people in Anambra State.
A statement posted by the APGA National Chairman, Chief Victor Oye, on his Facebook page Wednesday said that the appeal by the party had elicited response from stakeholders in Anambra State who have made material and financial contributions to be used in purchasing a variety of APGA-branded products for distribution to the 326 wards in the state.
He said that an 11-man committee headed by the Anambra State Chairman of APGA, Norbert Obi, has been mandated to handle the distribution of the purchased items equitably to the 326 wards in the state.
He also said that the Special Adviser to the Anambra State Governor Willie Obiano on Disability Affairs, Mr. Chuks Ezewuzie, has been coopted into the committee to represent the interest of disabled persons in the state.
Oye said that a date for the exercise and items to be distributed will be announced soon.
"We assure our people that APGA will never relent in its effort to improve the welfare of the people and propagate the enviable ideals of probity, transparency, equity and social justice as manifestly epitomized by the hardworking administration of Governor Willie Obiano in Anambra State.
"We pray God to reward all those that work selflessly for the good of others with long life, good health and wealth," he said.
Oye listed some of those that have responded with donations to include a renowned philanthropist and oil magnet, Chief J.J. Ezeokafor (Chairman Jezco Oil), who made a whopping donation of N50 million, a former Governor of the Central Bank (CBN), Prof. Chukwuma Soludo — N2 million, Dr. Emma Nwokoye — N500,000, Chief Anthony Enukeme (APGA BoT member) — N500,000, Chief Akai Egwuonwu — N500,000, and an anonymous person that donated 200 bags of 50kg rice.